Bathroom Remodel
2809 Crabtree Ln, Northbrook, IL
Project Overview
Bathroom Remodel in Northbrook, IL
Northbrook, IL is a suburb locates 18 miles north of Chicago. It is home to 33,000 residents. Northbrook is in Cook County Illinois. The residential neighborhood of the project is located near the downtown area of Northbrook. It is also just minutes away from Chicago Botanical Gardens and Northbrook Court Shopping Mall.
Job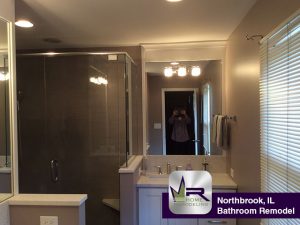 The homeowners were expecting their first child when they decided to remodel their existing bathroom. They wanted to change the entire look and feel of their existing master bathroom and they wanted the project to be completed within a very specific timeline.
Summary
The experts at Regency designed a new look and began work to remove an existing wall to make the room into a larger open space. A new entryway into the bathroom was built as well as a new knee high wall. The shower was expanded and per the homeowners request a stand up vanity was installed for makeup application. The gray, beige and white finished in the new bathroom gave the new master bathroom a fresh new look. As promised, the job was completed the same day that the young family welcomed their first child.
End result
Another bathroom remodel in Northbrook, IL completed by Regency Home Remodeling on time and within budget!